Sherwin Nikamal, DPM Podiatrist & Foot & Ankle Surgeon located in Oxnard and Palmdale, CA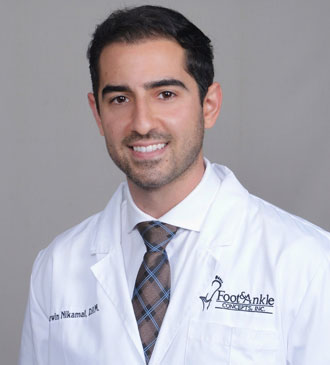 Through his extensive residency training, board-certified podiatrist Sherwin Nikamal, DPM, specializes in minimally invasive surgery including MIS bunions, foot and ankle trauma, sports medicine, total ankle replacement, reconstructive surgery, and limb salvage. Dr. Nikamal treats patients of all ages at Foot & Ankle Concepts Inc. in the Palmdale and Oxnard clinic locations. Dr. Nikamal was born and raised in Chicago, IL. During his undergraduate studies at Purdue University, he earned a Bachelor of Arts degree majoring in Movement and Sports Science. He then went on to earn his Doctorate of Podiatric Medicine degree from Dr. William M. Scholl College of Podiatric Medicine at Rosalind Franklin University of Medicine and Science in North Chicago, Illinois. Shortly thereafter, Dr. Nikamal completed a rigorous and comprehensive reconstructive foot and ankle surgery residency program at VA Greater Los Angeles and Olive-View UCLA Medical Center. His residency included rotations at Ronald Reagan UCLA Medical Center and Kaiser Permanente Woodland Hills Medical Center. Dr. Nikamal has co-authored several research articles while in residency and has given several lectures at Ronald Reagan UCLA Medical Center. He also was a member of the clinical faculty at Western University School of Podiatric Medicine where he helped educate podiatric medical students in clinic and surgery. Dr. Nikamal has a passion for sports and was a high school athlete, competing in both swimming and water polo. He went on to play water polo for Purdue University. He is an avid fan sports fan, following the Chicago Bears, Chicago Bulls, Chicago Cubs, and Purdue Boilermakers. In his free time, he likes to go on hikes, play basketball, and spend time with his family.
Foot & Ankle Concepts, Inc
Contact us to schedule an appointment!